How about real juice popsicles for when you're relaxing in front of the fireplace after dinner? Make this easy popsicle that is such a joy to have.
Make three different colored juices and chill them. Suitable fruit juices for this purpose: Kiwi, mango, watermelon, strawberries, pittaya, or any or your favorite fruits.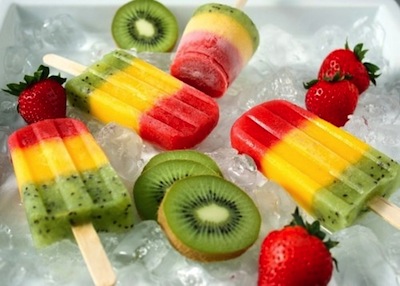 Pour the first colored juice into the mold and fill up one third full.
Keep the other two juices chilled.
Put the 1/3 filled molds into the freezer for about 20 minutes till the juice is almost frozen but not yet fully frozen.
Repeat same for the second and third colored juice then leave till fully frozen.